Freddie Scappaticci lawyers fail to stop broadcast of BBC Spotlight film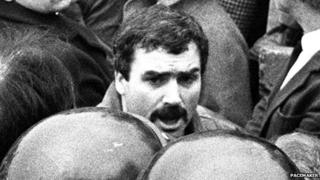 Lawyers acting for senior republican Freddie Scappaticci have failed in an attempt to prevent the BBC from running part of a Spotlight film on Tuesday.
The hearing, at the high court in Belfast, centred around filming at a news conference given by the alleged British agent at his solicitor's office on 14 May 2003.
The programme will be broadcast on Tuesday on BBC One at 22:40 BST.
A BBC spokesman said the programme "is of major public interest".
He added: "Tonight's Spotlight is an important investigation by Darragh MacIntyre of allegations that Freddie Scappaticci was involved in the murder of alleged British informants while himself an agent of the state, codenamed Stakeknife, at the heart of the IRA."