Eamonn McCrystal: NI programme wins four US TV awards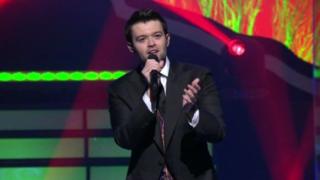 A music programme hosted by Northern Ireland singer Eamonn McCrystal has won four awards at a regional section of the Emmy Awards in the United States.
The show, titled The Music of Northern Ireland, was honoured by the Michigan Chapter of the National Academy of Television Arts and Sciences (NATAS).
The 28-year-old tenor, from Cookstown, County Tyrone, hosted and produced the show at Belfast's Grand Opera House.
It was recorded by a BBC Northern Ireland crew for the US TV channel PBS.
It included performances by Belfast singers Brian Kennedy and Rachel Tucker.
The TV awards ceremony was held in Detroit, Michigan, on Saturday night.
The singer and the production crew won four separate categories, including best Overall Arts/Entertainment programme, for which McCrystal and his co-producer Elizabeth Travis received an award.
McCrystal also won the best On-Camera Talent/Performer award.
The Music of Northern Ireland's director, John Northover, was named best director of a live or recorded live programme.
Nigel Wright, who also worked on the Belfast show, won the Musical Arrangements category.
McCrystal recorded his first album when he was 13 years old.