Ronan Hughes: Online safety guidance after schoolboy's death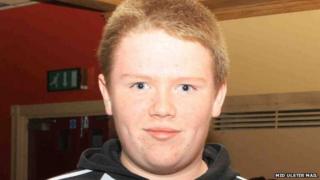 New internet safety guidance has been sent to schools in the wake of the death of Ronan Hughes.
The 17-year-old from Coalisland, County Tyrone, took his own life earlier this month after it is believed he was was tricked into posting pictures online.
The new guidance does not refer specifically to Ronan's death, but has been sent to all school principals.
It asked schools to warn children not to post "nude or nearly nude images or videos" online, among other advice.
'Devastating impact'
The guidance said sharing these images "could lead to harmful situations such as stalking, abuse or blackmail".
Police are investigating whether Ronan was blackmailed.
The new advice has been supplied by the Police Service of Northern Ireland (PSNI) and circulated by the Department of Education's pupil support team.
It said that trolling, sexting, cyberbullying and sexual exploitation can "have a devastating impact on the lives of our children and young people".
Training
It asked principals to "think about what information might be passed on to children and young people and their parents' about e-safety before the summer holidays".
It is also suggested that principals write to parents, advising them to monitor their children's internet use.
More training in e-safety is to be offered to all schools in the coming year.