Belfast: Fire crews tackle city centre blaze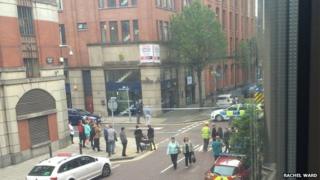 Firefighters have tackled a blaze at a building in Belfast city centre.
The fire is at a property on Adelaide Street, close to City Hall. It was reported to the Fire Service at 13.43 (BST).
One man who had to leave his office told the BBC he saw smoke pouring through his window.
He said: "My floor was on fire."
The fire was in the roofspace between the second and third floor.
There was no major evacuation of the premises and no details of any injuries.
The blaze is now out, but the fire service remains at the scene.