Cyber crime: PSNI say hack attack almost shut NI firm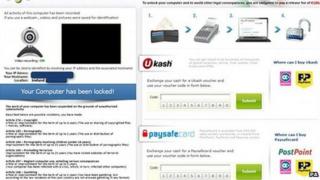 A Northern Ireland company employing 20 people was almost forced to close after its computer systems were hacked by an international crime gang, police have revealed.
The PSNI says firms are being targeted every day by criminals trying to steal data, commit fraud and blackmail.
Business organisations say they are becoming increasingly concerned about the impact of cyber crime.
Police say sophisticated gangs locally and across the world are involved.
'Denial of service'
"We are talking about the full spectrum of business, from small to medium and right up to large scale organisations," says Det Ch Insp Dougie Grant, who leads the PSNI's cyber crime team.
"Their online networks are being taken down, their websites are being taken down by attacks we call denial of service.
"We're seeing network intrusions or hacking, we're seeing data being stolen from companies."
One local company almost went out of business after its computer systems were infiltrated by a type of virus called ransomware.
It was told all of its records would be destroyed unless it paid a ransom.
"This ransomware had encrypted all their systems," says Det Ch Insp Grant.
"They had lost control of all their network, they had no data in relation to their stock control, their invoicing, their full system had been lost. Because of the impact on the company it couldn't trade and almost went out of business."
The PSNI says it was able to help the company, which has upgraded its computer security system and is still trading.
But it says number of businesses have suffered serious disruption and financial losses as a result of computer hacking.