Historical Institutional Abuse Inquiry: Cardinal Seán Brady admits 'shroud of secrecy' over Church sex abuse inquiry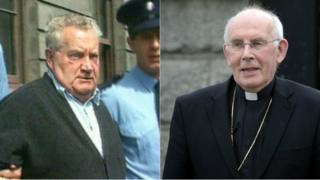 Cardinal Seán Brady has said internal church inquiries into child sex abuse took place under a "shroud of secrecy" to save the church from scandal.
The former head of the Catholic church in Ireland told Northern Ireland's Historical Institutional Abuse (HIA) inquiry this was very regrettable.
He was giving evidence about paedophile priest Fr Brendan Smyth.
The cardinal admitted that an internal inquiry he conducted in 1975 was "intimidating" for Smyth's victims.
He also agreed that some of the 30 questions posed to a 14-year-old boy who Smyth had abused were intrusive and "inappropriate".
Unspeakable
Smyth, who died in prison in 1997, was at the centre of one of the first clerical child sex abuse scandals to rock the Catholic church in Ireland.
The inquiry was questioning Cardinal Brady about his handling of the case and the 1975 allegations that the Catholic church did not report to police.
Smyth continued to abuse until he was jailed in 1994.
"There was a shroud of secrecy and confidentiality with a view to not destroying the good name of the church," Cardinal Brady said.
He described Smyth's abuse as "unspeakable crimes", but said church authorities felt there was "confidentiality resting upon us, too".
Oath
"The scandal that somebody who was ordained to serve people should so abuse the trust for their own pleasure was appalling," he added.
"To offset that, the scandal was kept a secret - very, very secret. Everybody involved would be bound to secrecy, too."
The 14-year-old boy had been made to sign an oath of secrecy when Cardinal Brady, then a young priest, interviewed him about his allegations.
Cardinal Brady, the retired archbishop of Armagh, said the church had been preoccupied with gathering evidence so that action could be taken against Smyth.
As a result, insufficient thought was given to the victims and their families.
"We didn't take into account sufficiently, at all, the impact and the care that was needed for the boys and their parents," the 75-year-old said.
"That was a mistake. That was wrong."
Smyth was convicted in the 1990s of more than 100 indecent assaults against children, in both Northern Ireland and the Republic of Ireland, over a 40-year period.
Retired judge Sir Anthony Hart is leading the inquiry which is examining allegations of child abuse in church, state and voluntary children's residential institutions dating back to 1922.