CS Lewis: Narnia sculptures to be erected in Belfast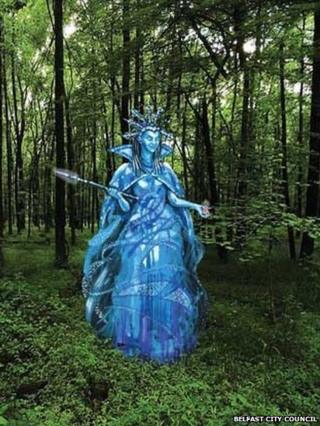 The Belfast-born writer CS Lewis is to be honoured by his native city with a series of new sculptures depicting characters from his most famous novel, The Lion, The Witch and The Wardrobe.
Belfast City Council has commissioned six new pieces of public art, including Aslan the Lion and the White Witch.
They will be erected in a new civic square, currently under construction, at the Holywood Arches in east Belfast.
The development is part of the new Connswater Community Greenway.
'Famous son'
Clive Staples Lewis was born in east Belfast's Dundela Avenue in 1898 and was baptised by his grandfather, rector of the nearby St Mark's Church of Ireland.
He spent much of his early childhood at his family home, Little Lea, just off the Holywood Road, and the area is believed to have inspired some of his novels.
When he was nine years old, his mother died from cancer and Lewis was sent to boarding school in England, but he still maintained strong links with Belfast.
'Through the wardrobe'
The council has commissioned the artist Maurice Harron to create the installations, whose previous works include the Reconciliation/Hands Across the Divide sculpture in Londonderry.
"I'm delighted to step 'through the wardrobe' and take on the challenge of recreating the magic of Narnia, right on CS Lewis' own doorstep," the artist said.
"These artworks will be central to the civic square and provide a fitting tribute to one of Belfast's most famous sons."
As well as the lion and the witch, the six pieces of art also include sculptures of Mr Tumnus, Jewel the unicorn, Mr and Mrs Beaver and the Stone Table.
They will be placed close to an existing Lewis-inspired artwork at the Holywood Arches.
'Turn the page'
The bronze sculpture, known as The Searcher, recreates the fictional wardrobe that provided entry to the magical land of Narnia.
The six installations will be set on wooded areas within the new public square and the artist said their locations would "reflect each character's role in the story, inviting visitors to 'turn the page' as they explore this new space".
"I want to recreate the emotions within Lewis' world, so that - like Lucy, Edmund, Peter and Susan - you never quite know what's around the corner," he added.