Man injured in naked horse ride in Castlewellan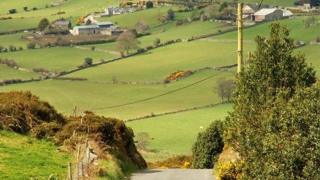 The co-owner of a County Down equestrian centre has described finding a naked and injured would-be horse rider as "a new one" in the centre's 50 years of business.
The unsuccessful attempt at a naked nocturnal horse ride happened last Wednesday in Castlewellan.
The story appeared in the Belfast Telegraph on Tuesday morning.
Patsy King, of Mount Pleasant Equestrian Centre, told the BBC he was first alerted by an ambulance passing his home at about 23:00 BST.
'Bucking bronco'
He was then told by his son that police needed the keys to the gate of a field close to the centre.
"I looked down in the field and saw this guy who didn't seem to have any clothes on," Mr King said.
"An ambulance crew was working on him, who were females and a female police officer as well - so he had plenty of ladies around him.
"I said 'what in the name of God is happening here'.
"All his clothes were outside the gate, he had taken them off and climbed over the gate and tried to ride this horse.
"Unfortunately, the horse he was trying to get onto was an unbroken horse, so obviously it would just go like a bucking bronco as soon as he got on it."
Mr King said luckily the man was not seriously injured.
"Thankfully, we were able to get the gate open and they were able to take him to the ambulance - he wasn't carried to it - of course at this stage with a blanket round him," he said.
"I checked with the police, thankfully it wasn't life-threatening, he sustained a dislocated shoulder and broken arm as far as I'm aware."
He added: "We're coming up on 50 years in business here at Mount Pleasant and we've had no instances like this before, so it's a new one on us."
Helmet
Police confirmed they attended the report of a man suffering an injured arm in an incident in the Bannonstown Road area of Castlewellan on Wednesday night.
"An ambulance was tasked and the male was taken to hospital for treatment," they said.
Mr King said he had important safety advice for other would be horse riders.
"We would strongly advise people if they are going out on horses, one very essential thing would be a riding helmet, preferably with clothes, but the riding helmet is very essential," he said.