Bernadette Smyth: Anti-abortion protester 'will not be restrained'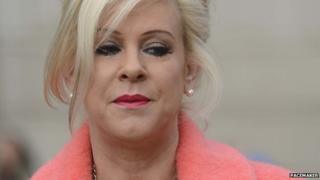 A high-profile anti-abortion campaigner cleared of harassing a former Marie Stopes clinic director will not be subject to a restraining order, a judge has ruled.
Precious Life director Bernadette Smyth won her appeal against a conviction for harassing former clinic director Dawn Purvis in court on Monday.
However, prosecutors wanted a five-year restraining order to be kept in place.
In court on Tuesday, the judge ruled there was no basis for this.
It means there is nothing to stop Mrs Smyth taking part in lawful protests outside the clinic in Belfast city centre.
Mrs Smyth, 52, of Suffolk Street in Ballymena, County Antrim, mounted a legal challenge after she was found guilty of harassing Ms Purvis on two dates in January and February last year.
The clinic opened on Great Victoria Street in October 2012.
Since then, anti-abortion campaigners have held demonstrations and handed out leaflets at the centre that offers sexual and reproductive health care and early medical abortions within the constraints of Northern Ireland's law.
Ms Purvis, who has now stepped down as clinic director, said she had been frightened for her safety following two incidents involving Mrs Smyth.
In the first exchange with demonstrators, Ms Purvis, a former Progressive Unionist MLA, said she put her hand up and asked them to stop harassing her.
At that stage, Mrs Smyth replied in an exaggerated Ballymena/American drawl: "You ain't seen harassment yet, darling."
A month later, Ms Purvis' son called to her office with a female friend.
She claimed that as she walked them out of her office, another of the protesters followed the girl up the street.
She said Mrs Smyth then started to cackle at her.
Ms Purvis told an appeal hearing at Belfast County Court on Monday that she felt menaced and frightened.
But halfway through the hearing, counsel for Mrs Smyth successfully applied to have the case thrown out.
The judge ruled that the evidence did not meet the standard required for a successful prosecution.
He quashed the conviction and the accompanying sentence of 100 hours community service, as well as £2,000 compensation to the alleged victim.
Mrs Smyth had also been subjected to a five-year restraining order to stop her pestering or interfering with Ms Purvis and to stop her going within 20 yards of the front door of the city centre clinic.
She was not present in court as the prosecution application was dismissed.
The Marie Stopes Clinic was the first private organisation to offer early medical abortions in Northern Ireland, where the legislation regarding pregnancy termination is much more strict than in the rest of the UK.
A woman can only have an abortion if it can be proven that her life is at risk, or if there is a serious danger of permanent damage to her mental or physical health.