Pink grasshopper found in Belfast hills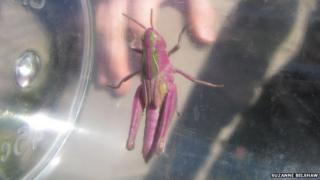 A pink grasshopper has been found in the Belfast hills.
It was picked up during a wildlife recording event at Slievenacloy Nature Reserve.
Grasshoppers are usually green or brown to blend in with their environment for safety, so a pink one is an unusual sight.
"The pink or purple is a colour variation caused by genetics, which makes this grasshopper a very interesting and strange find," said Deborah McLaughlin, nature reserves officer at Slievenacloy.
The wildlife recording event was organised by Ulster Wildlife and Belfast Hills Partnership to find and identify as much wildlife as possible on the reserve.