Ex-DUP adviser David McConaghie: Camera in toilet trial adjourned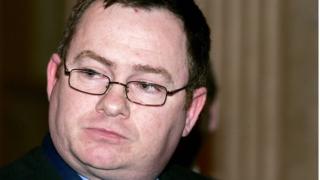 The case against a former minister and DUP adviser accused of secretly filming a colleague for sexual gratification has been adjourned.
David McConaghie is accused of recording a woman carrying out a private act in the toilets at MP David Simpson's constituency office.
A court viewed footage showing what appears to be Mr McConaghie placing the device in a bowl of potpourri.
Mr McConaghie denies making recordings for his sexual gratification.
So far, Mr McConaghie's lawyers have not said anything to suggest that this is not him.
The prosecution said it appears the defence have in fact accepted that it is him.
But the defence says that there is no corroborating evidence to prove that Mr McConaghie, from Cottage Hill, Dollingstown, carried out this act for his own sexual gratification.
They say that, as this is a key pillar of the charges against him, the trial should now be stopped - effectively because there is no case to answer.
A district judge adjourned the case and will hear submissions in relation to this argument in August.