Google Maps omits Goliath crane from Harland and Wolff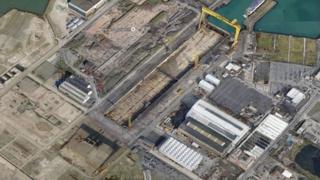 It's been part of the east Belfast skyline since 1969, stands nearly 100m tall and weighs 840 tonnes, but it seems Goliath has been overlooked by Google Maps.
The crane is one of two that still dominate the Harland and Wolff shipyard, where famously the Titanic was built.
The huge yellow crane stands close to its twin, Samson, in the shipyard.
However, on Google Maps' 3D version, only Samson is visible.
The shadow of the missing crane can be seen but the crane itself is absent.
The mistake was spotted by Bangor man Alan Bates.
"It was very obvious immediately, because I was in the 3D view and I thought 'hang on a minute, there's only one crane there'," he said.
"Working on the basis that the one they have left nearest the sea is Samson as far as I know, deduction says that it's probably Goliath.
"I imagine it's something that'll probably do the rounds for a bit, then they'll fix it and that'll be the end of it.
"It's just a bit big for us as locals to have missing."
Goliath was completed in July 1969 and was largely constructed by Harland and Wolff within the company.
Samson was provided by the Krupps company in its entirety and was completed in May 1974.
Despite the name, Samson is 10 metres higher than Goliath. Each has a span of 140 metres (460ft).
Asked about the omission, a Google spokesperson said: "Google sources satellite imagery from other providers."