Civil service sickness: Absences 'cost £31.9m in lost production'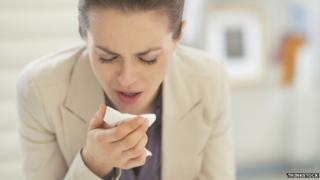 Sickness absence in the Northern Ireland civil service has risen again and stands at an average of 10.8 days lost per staff member every year.
That equates in salary terms to an estimated £31.9m in lost production, according to the latest report from the Northern Ireland Statistics and Research Agency (NISRA).
It found that the time lost fell short of the government's target of 8.5 days.
But more than half of all staff members had no sick record for 2014/2015.
Of those who were absent due to sickness, one in 10 were off sick for an average of nearly three months.
As in previous years, the report, Sickness Absence in the Northern Ireland Civil Service 2014/2015, said the main reason for absence was anxiety and stress. Nearly one out of every three working days lost were due to this.
The Department of Justice registered the highest overall increase in sickness levels. This was driven, in large part, by an increase in long-term absence among prison staff.
Overall, the report found that women took more sick leave than men.
Staff who had been in post for under two years, half of whom would have been on probationary terms and conditions, had less than half the level of sickness absence (5.3 days) of staff who had been employed for two years or more (11.1 days).