The Disappeared: Seamus Wright funeral takes place in Belfast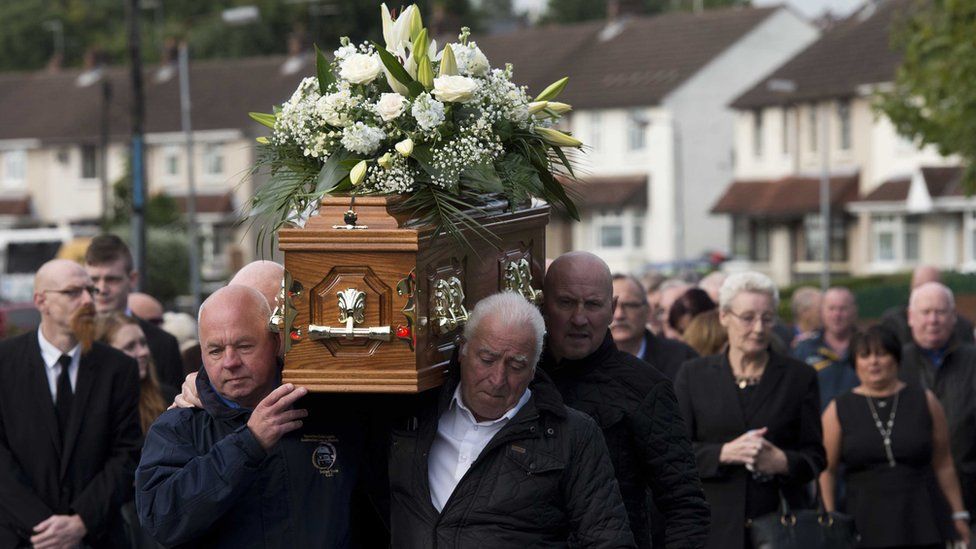 Seamus Wright, one of the Disappeared, whose body lay undiscovered for more than 40 years, was a "deeply committed" family man, mourners at his funeral have heard.
It was confirmed earlier this month that the remains were those of the men.
The bodies of Mr Wright and Mr McKee were buried together in a single shallow grave in Coghalstown, County Meath, after they were abducted in October 1972.
Requiem Mass for Mr Wright was held at St Agnes' Church on the Andersonstown Road in west Belfast.
It was followed by a service at Roselawn crematorium.
Fr Brendan Callanan told mourners it had "taken a long time for us to come to this point".
He said Mr Wright had a "strong religious dimension" to his life.
"He died a young man, just 25 years of age, and the death of a young person seems to hit us harder," Fr Callanan.
The bodies of Mr Wright and Mr McKee were found unexpectedly during a search for another of the Disappeared, Joe Lynskey.
The remains of 12 of the victims have been recovered and formally identified to date.