Roma boy's family awarded 60,000 euros after suing Irish state over removal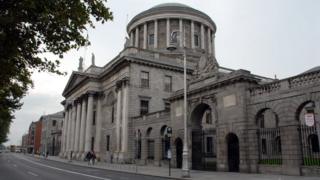 The family of a blond Roma boy, who was removed from his Irish home over unfounded fears he was not their son, has won 60,000 euros (£44,000) damages.
Dublin High Court heard the boy was one of two Roma children taken out of their homes by Irish police (Gardaí) during a "brief hysteria" across Europe in 2013.
It was sparked when DNA tests on a blonde girl in Greece did not match the DNA of the Roma family she lived with.
In both Irish cases, the children were returned to their parents within days.
'Emotional harm'
The boy was two years old when police took him out of his home in Athlone, County Westmeath, in October 2013.
The officers took the action under the Child Care Act 1991, after members of the public reported concerns that the boy might not be the biological son of the couple who were raising him.
DNA tests proved the boy was the son of the Roma couple and he was returned to his family home the following day.
The boy's parents later took legal action against the Irish state, the minister for justice and the head of the police force (Garda Commissioner) on grounds including alleged negligence, false imprisonment and infliction of emotional harm.
Dublin High Court heard that in her 2014 report into the case, the then Children's Ombudsman Emily Logan said the removal of boy from his home amounted to "ethnic profiling", as defined by the European Commission against Racism and Intolerance.
'Trauma'
A barrister acting for the boy's family told the judge that the ombudsman's report had concluded there was no well-founded suspicion or immediate emergency justifying the actions of the police.
The government had apologised over the matter, the court heard.
The judge noted, notwithstanding the undoubted trauma for the child, a medical report suggested he had not suffered personal injuries as a result of his brief removal from his home.
He approved the state's 60,000 euros offer to settle the case, plus High Court costs.
The boy, who is now four, attended the court case with his parents.