County Armagh road worker wins £4m on National Lottery scratch card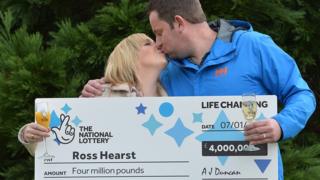 A 34-year-old road worker from County Armagh has won £4m on a National Lottery scratch card.
Ross Hearst's wife Jocelyn is expecting their first child in April.
Mr Hearst, 35, bought the blue scratch card on Wednesday from a Spar store in Lurgan.
He had won two prizes of £20 and a further £10 the day before, and thought he would buy a £10 lottery scratch card because he was "on a roll".
When Mr Hearst discovered he had won, he tried ringing his wife 22 times - she got 22 missed calls - and initially she did not believe him.
Mr Hearst is going to buy a car with his winnings.
He does not like flying, but the couple may book a cruise to celebrate their success.