London Routemaster buses: Wrightbus set to get order worth £60m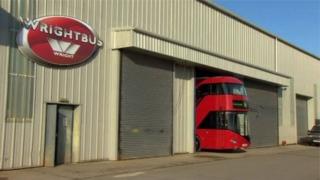 County Antrim firm Wrightbus is set for an order worth £60m, after London Mayor Boris Johnson got the green light on financing the deal.
He chaired a board meeting of Transport for London (TfL) on Wednesday which approved funding for an additional 195 Routemaster buses.
It paves the way for the order to be placed within weeks, before his term as London mayor ends.
It will deliver a much-needed manufacturing boost to Ballymena.
Iconic
TfL had been told that without any further order, Wrightbus would close down its Routemaster production line next month.
TfL has previously bought 805 updated versions of the iconic red bus, after awarding Wrightbus the contract in 2009 to supply up to 1,000 vehicles.
The election for a new mayor in May has created doubts about the future of what is considered one of Mr Johnson's flagship projects.
Adjustments
Mr Johnson, who is stepping down, has envisaged 2,000 Routemasters on the city's streets by 2020.
But Labour's mayoral candidate Sadiq Khan has vowed to freeze future purchases "of the most expensive buses in the world".
They cost about £350,000 each.
Any new order would include adjustments to design, including opening windows and a better performing battery.