Stormont: Proposal to rename OFMDFM is rejected by Assembly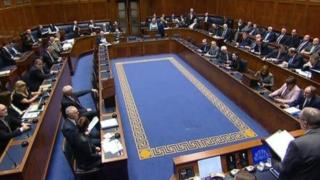 MLAs have voted against renaming the Office of the First and Deputy First Minister.
If passed, the proposal would have seen the department called the 'Office of the First Ministers'.
However, a petition of concern was lodged against the bill by the DUP, so it needed cross-community support in the house.
On Monday the proposal, a part of the Opposition Bill brought by Independent Unionist John McCallister, fell.
The majority of unionists and nationalists voted against it.
Large parts of the Opposition Bill are being killed off during the consideration stage in the Assembly.
MLAs are voting on the bill on a clause-by-clause basis.