David Ford 'still hurt' over losing church role for supporting same-sex marriage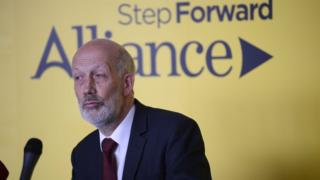 Alliance Party leader David Ford has said he is "still hurt" about giving up a senior role in his church because of his support for same-sex marriage.
He used to be an elder at Second Donegore Presbyterian Church in Ballyclare, County Antrim.
In 2013, he left his church post voluntarily after some members of the congregation expressed concern over his support for civil same-sex marriage.
He told the BBC's Nolan Show it still "choked" him up three years later.
"It saddened me that there was, if I may put it, a lack of understanding from some people about the role I had as a legislator, compared to the role I have within the church," Mr Ford said.
'Providing equality'
Northern Ireland is the only part of the UK and Ireland which has not legalised civil same-sex marriage.
The Alliance leader said that although he supports the introduction of civil marriage for same-sex couples, both he and his party respected the separate rights of churches "to practise and define their own beliefs".
He said the issue was about "providing equality in the way that the public receives services from the state" and civil marriage was not a matter for churches.
"I have my own beliefs as a member of a church, as to how the church role fits in," he said.
"But in terms of civil society, the services which are provided, I don't believe that it is for those of us who are in the heterosexual majority to tell people who are in the homosexual minority that they're not being discriminated against, when they feel that they are being discriminated against."
The Presbyterian Church teaches that marriage should be a "lifelong union of one man and one woman".
'Damaged'
Mr Ford stepped aside as an elder in April 2013 and has not resumed his role.
"Walking into church on Sunday morning, in those circumstances, hurts," he said.
"There aren't tears but there's a slight choke in my voice."
He added his relationships with some people in his church were now damaged because of the issue.
He has led Alliance for 15 years and has been justice minister since 2010.
Last week, he confirmed he will not seek re-appointment as justice minister after the Northern Ireland Assembly elections in May.
He said it was one of the executive's most difficult jobs and it was an appropriate time to "take a break".