Carnfunnock arms find: Police release pictures of bomb-making material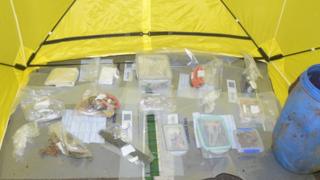 Police have released photographs of the bomb-making equipment found in Carnfunnock Country Park, County Antrim, on Saturday.
Items include circuit boards, partially constructed timer power units and a small quantity of explosives.
Police have not said which paramilitary group they believe hid the bomb materials.
The find was made a day after a dissident republican attempt to kill a prison officer.