St Patrick's Day celebrations take place across Northern Ireland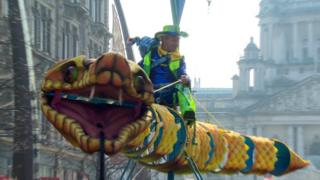 Thousands of people have attended St Patrick's Day parades and festivities in towns and cities across Northern Ireland.
The Belfast parade departed from city hall at noon and made its way to Custom House Square for a free concert.
Parades and celebrations were also being held in Londonderry, Armagh, Newry, Enniskillen, Omagh and Downpatrick.
The largest parade in the Republic of Ireland was in Dublin.
There was some disruption to traffic between 11:45 GMT and 13:30 GMT during the Belfast parade in the area of City Hall, Royal Avenue, Donegall Street, Waring Street, Victoria Street, Custom House Square.
One of the organisers of the Belfast parade, Nicky Devlin, said the free outdoor concert at Custom House Square had something for everyone.
"We have a stage full of entertainment. We have the Belfast Boys' Model drumming school, which will get everything started and get everyone toe-tapping," he said.
"We have Irish dancers, we have X-Factor's Ben Haenow, former Westlife member Brian McFadden, we've local girl Triona Carville, who's kind of Nashville, blues kind of music.
"There's something hopefully for everyone, and for little ones we've got balloon modellers, face painters and some street theatre as well.
In Derry, thousands lined the route of the carnival parade. This year's theme was "Land of the Little People".
Fiona Umetsu, of the North-West Carnival Initiative, said more than 700 people from across the city and the north west were taking part in the parade.
"It's going to be a fantastic parade, we have thousands of people who have promised to line up on the streets today to see all these wonderful floats and creations the North-West Carnival Initiative have been building," she said.
"We're really excited, we can't wait for it."
The Apprentice Boys of Derry have also been on parade for St Patrick's Day.
The local No Surrender Parent Club marched around the war memorial in the Diamond before attending a religious service in St Columb's Church of Ireland Cathedral.