President Obama urges NI leaders to implement peace agreements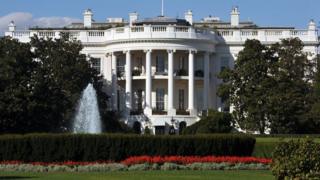 US President Barack Obama has urged Northern Ireland's leaders to move forward with the implementation of the Stormont House Agreement and the Fresh Start Agreement.
President Obama dropped into a meeting Vice-President Joe Biden was having with First Minister Arlene Foster and Deputy First Minister in Washington on Wednesday.
In a statement, the White House said the president had commended both leaders on the progress made towards peace in Northern Ireland.
Mrs Foster and Mr McGuinness are visiting the United States as part of St Patrick's Day celebrations.
On Tuesday, Sinn Féin President Gerry Adams did not attend a St Patrick's Day event in the White House.
Mr Adams was told there was a security issue when he attempted to gain access to the event in Washington DC.
The American Secret Service later said it regretted that the issue had not been resolved in a more "timely manner".