Man jailed for shining laser at helicopter admits it was 'the height of stupidity'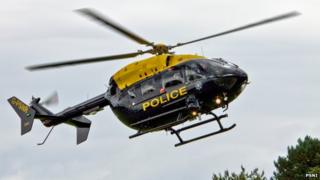 A County Antrim man who shone a laser into the cabin of a police helicopter has been sentenced to six months imprisonment.
Alan Armstong, 35, of Kinbayne Avenue in Greenisland admitted his actions were "the height of stupidity".
Belfast Crown Court heard Armstrong's laser pen had rendered the pilot unable to read the instruments.
Armstrong's lawyer said he did it because "the helicopter was annoying him as it was flying over his house."
He admitted a charge of endangering the safety of an aircraft on 19 September 2015.
The judge said any such actions which could have resulted in a pilot crashing in a heavily populated area were serious and warranted a prison sentence.
A prosecuting lawyer explained that the PSNI helicopter was dispatched on the evening in question to the Carrickfergus area in response to a stolen vehicle.
Evasive manoeuvre
The pilot, with over 3,000 hours flying experience, was in the aircraft along with two police officers.
The lawyer said that around 22:00 BST, whilst flying at around 2,500 feet, a green laser was shone directly at the aircraft which "illuminated the cabin, and caused the pilot to take an evasive manoeuvre in order to minimise the laser distraction."
The pilot alerted air traffic to the incident, as a civilian aircraft was due to pass by overhead.
One of the officers onboard the helicopter contacted another officer on the ground, and the location the laser was being shone from was identified as Armstrong's address.
His lawyer said Armstrong was not trying to injure or harm anyone and was remorseful for what he had done.