BBC Northern Ireland success at Celtic Media Festival Awards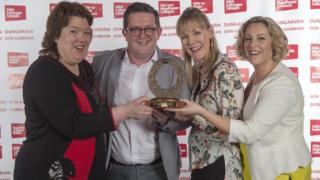 BBC Northern Ireland programmes have won three awards at the Celtic Media Festival in the Republic of Ireland.
A television documentary and two radio productions took the top prizes in their categories for the BBC.
Peter Johnston, BBC Northern Ireland's director, said the awards were "a great acknowledgement of the creativity and dedication of our production teams".
The three-day festival took place in Dungarvan in County Waterford this week.
BBC One NI's True North: Keepin' Er Country took the main accolade in the factual entertainment category.
Made for the BBC by the Alley Cats production company, it told the story of country music fans with a passion for dancing.
BBC Radio Ulster's Saturday morning programme The John Toal Show won the best radio magazine show award.
And BBC Radio Ulster also took the main award in the radio documentary section for Lacrimosa, produced by Conor Garrett.
The programme, broadcast last summer, was a personal look at why presenter Proinsias O'Coinn found it difficult to cry.
It has also been selected for the 2016 International Features Conference.