Game of Thrones: Fallen trees used in tourism drive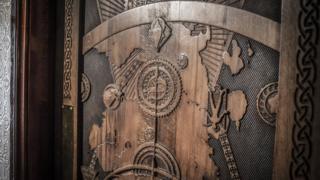 A new tourism campaign based on Game of Thrones will use doors carved from two trees blown down in a storm at the Dark Hedges site in County Antrim.
The 200-year-old beeches have been a visitor attraction since featuring in the HBO series, but were uprooted in a storm in January.
The doors will hang in pubs and other venues near filming locations, and in advertisements.
Tourism Ireland said they "referenced key scenes" from the new season.
The opening episode of season six was broadcast on Sky Atlantic on Monday night.
The iconic tunnel of trees on the Bregagh Road near Armoy features as the Kingsroad in the series.
They were planted by the Stuart family along the entrance to their Gracehill House mansion.
Since 2013, tourism officials have sought to capitalise on the worldwide popularity of Game of Thrones, much of it filmed in Northern Ireland.
More than 20 local locations have been used, including Ballintoy Harbour and Tollymore Forest Park.
Advertisements will appear on social media between now and June, aiming to convince fans to visit Northern Ireland.
The campaign was developed by Tourism Ireland and Tourism NI.
John McGrillen, chief executive of Tourism NI, said it was "highly innovative" and "will raise the profile of Northern Ireland as a holiday destination."
Game of Thrones season 6 began on Sky Atlantic on Monday evening.