Antrim Area Hospital: Apology over cancer patient's trolley wait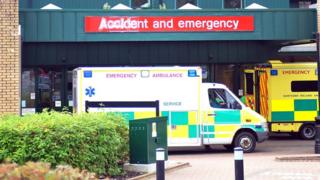 A nursing director has said she wants to apologise to the family of a dying woman who waited hours on a hospital trolley before a bed became available.
The 83 year old was admitted to Antrim Area Hospital's emergency department (ED) at about 17:00 BST on Tuesday.
Her family told the BBC their mother spent 15 hours on a trolley.
The Northern Health Trust's director of nursing apologised for the bed wait but said she was "satisfied" with the nursing care that the patient received.
"I spoke with this lady myself at lunchtime, I will seek her family out this evening and I will certainly apologise," Olive MacLeod told the BBC's Evening Extra programme.
"It's not the standard I want for our patients, but I am satisfied that she did get the clinical treatment and the nursing care she deserved while she waited for a bed in our ward."
'Extremely frail'
The patient's daughter, who does not want to be named, said she was shocked and concerned about the time it took to secure a hospital bed for a terminally ill cancer sufferer.
"My mum is dying, she's elderly and extremely frail," the woman said.
"I am very concerned about her having to lie on a trolley, not even a proper bed.
"She has lung cancer. It's just dreadful - imagine lying 15 hours on a hospital trolley."
The family became concerned on Tuesday after their mother developed a cough while she was at home.
Packed
The palliative care team had visited her and advised the family that their mother needed hospital treatment.
An ambulance was called, which took more than three hours to arrive.
The woman's daughter said they arrived to a packed emergency department, with staff extremely busy and working under pressure.
"There were people everywhere," she said.
"It was just so busy with lots of people lying on trolleys packed tight against the wall.
"I wasn't expecting what I saw - it's just a dreadful way to leave your mum."
Assessment area
In a statement to BBC News NI, a spokesperson for the Northern Health Trust said: "We are sorry that this patient and her family were disappointed with the care they received in the emergency department at Antrim Area Hospital."
It said 1,041 people had attended Antrim's emergency department between 22:00 BST on Friday and 10:00 BST on Wednesday and that all necessary steps were taken to make sure patients did not have an "unnecessarily long wait".
"The patient referred to in this case arrived at Antrim emergency department and was triaged (assessed by a senior nurse) within 20 minutes of their arrival", the statement added.
"She remained under the care of the emergency department until 11:35pm, when a decision to admit was made.
"She was transferred from the emergency department to the assessment area at 2am.
"This assessment area is a dedicated area with its own nursing team and facilities.
"The patient has a full plan of care in place with a named physician and a nursing team."
The Northern Health Trust's executive director of nursing confirmed that the patient was moved to a bed by "mid-morning" and then into a ward at 14:00 BST on Wednesday.
Ms MacLeod added: "This is not the experience I want for any of our patients, however I am satisfied that her treatment plan was started immediately.
"She got the medication she required, she got the nursing care she required - the department was very busy.
"I understand, particularly for patients and their relatives, watching how busy it is can be quite distressing.
"But I am absolutely satisfied we have a senior nurse on duty who has oversight of the department, who knows where all our patients are and she is tracking everybody."