Death cafe: Tea, cake and mortality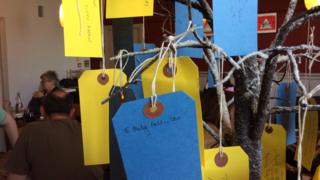 For many of us death is the last great unmentionable subject.
It is upsetting, unpleasant and best pushed to the back of our minds.
In a bid to break that taboo, terminal illness charity Marie Curie has held what is known as a Death Cafe.
Hosted in the Common Grounds cafe in Belfast's City Church, it aims to get people to have conversations about death in an informal setting, over tea and cake.
Joan McEwan, from Marie Curie, said people in Northern Ireland still have a great reluctance to address what happens at the end of life.
"It's still very much a forbidden topic and that can act as a real barrier to people getting the care and support they need.
'Support'
"It's estimated that about 3,000 people here aren't getting that support.
"The purpose of the cafe is to encourage everyone to have a gentle conversation about death and dying.
"The hope is we go away feeling more at ease and making the most of life."
Death Cafes were inspired by Swiss sociologist Bernard Crettaz.
He expanded the long-standing European tradition of talking about the big issues of life in the public sphere - and the death cafe movement was born.
It was brought to the UK by Hackney-based Jon Underwood.
It has four principles - it is not for making money, it does not lead people to particular products, conclusions or actions, it is open and respectful and there is always tea and cake.
So how does it work?
Joan McEwan said the best way of kicking things off is to start the conversation with a simple, general question.
'Wills to funerals'
"We started with what would be on your bucket list," she said.
"People have talked about paragliding and going to see the Northern Lights, but there's been wider things where they've talked about really making a difference to others.
"Some of the things that touched my heart strings were making sure older people are happy and settled. Another one was about really falling in love."
Joan said that the way society has changed has led to people living longer, yet we often do so in social isolation.
"More and more of us are working, and have smaller families yet we don't have time for social networks," she said.
"This type of event helps people focus on the importance of friends and family - that is what's ultimately paramount."
This inaugural event saw around 40 people come to talk about plans for their own death and their experiences of death.
Seated in groups around tables, friends and strangers chatted about funerals, wakes, what happens when we die and why we are afraid to talk about death.
Dorianne Finlay, from Bangor, said it is good to learn from other people's experiences.
"Generally speaking, people in Northern Ireland do not want to speak about death - from making wills to funerals.
"When we do address it, it is after the death. People come to the house, with pots of soup and sandwiches to help or to reminisce.
"I feel that the death cafe can help people with this, we can open up with like-minded people."
Peter Gilbert volunteers at the Marie Curie hospice. He said he wanted to come because it sounded like an unusual event.
"I'm retired - but I was struck by one of the younger people at my table. He was also thinking, death is going to happen to me.
"I thought that was rather unusual - but very real."
He said he would urge others to give the Death Cafe a go.
"Like all things in life you have to try it out. It will not be for everyone but it may surprise you."