Woodburn oil well: Firm begins drilling at controversial site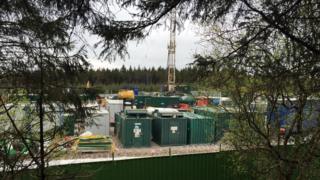 The oil company behind a controversial exploratory well in County Antrim has said it has begun drilling operations.
Infrastrata made the claim on its website on Monday morning.
But opponents of the drill, who have been monitoring the site at Woodburn near Carrickfergus, have said they have seen no evidence of work under way.
The plan to sink a test well has proven controversial because it is close to reservoirs that supply thousands of homes.
Northern Ireland Water, which leased the drill site to the company, has said there is no threat to the water supply.
However, critics have said there is a risk of contamination.
A resident who lives nearby has gone to court in an attempt to stop the well.
It was granted permission under what is known as permitted development rights.
That meant it did not need to go through the full planning process.
The company has claimed there could be 25m barrels of oil within the target area.
If it decides that it wants to extract the oil commercially, it would have to submit a full planning application.