Aer Lingus: Airline cutting 70 jobs at Belfast city airport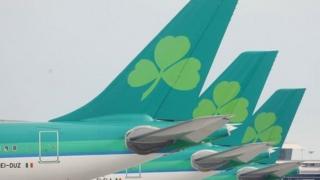 Aer Lingus is cutting most of its Belfast staff but has said there will be no change to its flying schedule from the city airport.
The company said "a large proportion" of the Belfast operation will now be resourced from Dublin.
Of the 86 posts at Belfast, 17 are remaining, with another 52 being offered positions in Dublin.
The other 17 jobs were fixed term contract which are not being renewed.
Aer Lingus said it remains "committed to serving the Belfast market."
The company said the job cuts were being made to "secure the future profitability" of the Belfast operation.