Baptist church in Rathfriland damaged in arson attack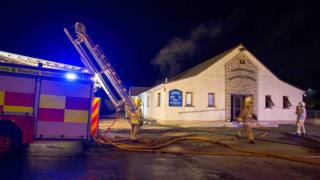 A County Down Baptist congregation will have to find another place for worship after its church building was damaged by arsonists, its pastor has said.
Tyres were placed against Rathfriland Baptist Church on the town's Loughbrickland Road and were set on fire after 23:00 BST on Wednesday.
The incident was "an attack on the gospel", Pastor Ian Wilson said.
It had shocked people in the "peaceful" town and it will be weeks before the building is fit for use, he added.
The side of the building was damaged and windows were broken, while the inside sustained smoke and water damage.
Pastor Wilson tweeted that in spite of the "setback we can rejoice knowing that the devil may roar but Christ reigns".
"This is not just an attack on Rathfriland Baptist, but I feel it's an attack on every church in the town and on the community," he told the BBC.
"But I think above all it's an attack on the Lord and the gospel.
"We're just here to preach the gospel and we will continue to do that in spite of the fire - in fact, we will want to redouble our efforts."
The church hopes meet in the town's high school on Sunday, while other meetings will take place in Rathfriland Elim church.
"It'll take a number of weeks to have the building back in good, safe condition," Pastor Wilson added.
The attack was an example of "mindless vandalism", South Down MP Margaret Ritchie of the SDLP said.
"Places of worship are sacred and should be wholly exempt from vicious, cowardly attacks of this nature," she added.
Sinn Féin MLA Chris Hazzard said the attack was wrong and would "cause a great deal of distress to those who use the church".
Ulster Unionist MLA Harold McKee said the arson was "an absolute disgrace".
Democratic Unionist Party MLA Jim Wells said it had been "an act of cowardice and destruction".
'Smashed'
In a separate incident, a window has been smashed at a Baptist church in County Fermanagh.
The attack happened at the church on the Cornagrade Road in Enniskillen.