Paddy Barnes almost knocked out by faulty stool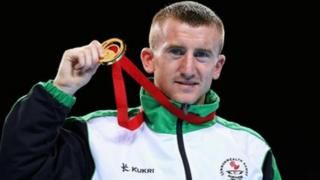 Belfast boxer Paddy Barnes is used to taking punches but has been floored by an altogether more unexpected opponent - a faulty ring stool.
The two-times Olympics bronze medallist was laid out between rounds when the seat collapsed during a competition in Lithuania.
Despite the knock down, he got up to record a points victory over Spain's Gabriel Escobar.
Later, Barnes tweeted a video of the incident.
"Look at what happened to me in my fight earlier!" he tweeted on Thursday.
However, he did not receive much sympathy for being on the receiving end of a rare knock down.
"I can't stop watching this," replied Christine Frampton, wife of world champion boxer Carl Frampton.
Barnes, who will compete in the Rio Olympics this summer, bounced back in style by winning the competition's flyweight division on Friday.