Enda Dolan: Drunk driver sentence referred to appeal court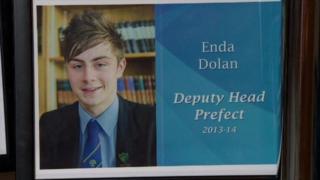 The sentence imposed on a drunk driver who killed Tyrone teenager Enda Dolan is to be referred to the Appeal Court on the grounds that it is too lenient.
The 18-year-old died when he was knocked down on the Malone Road, Belfast, in 2014.
David Lee Stewart, 31, of Gray's Park Avenue, Belfast was sentenced to three and a half years in prison and three and a half years on licence.
But the director of public prosecutions said he would refer the sentence.
Barra McGrory said this was on the grounds that it was unduly lenient.
At his trial, the court heard Stewart had taken 13 drinks before he drove that night. He had taken six pints of beer and four Jagerbombs, a mix of a spirit and an energy drink.
Traces of drugs, including cocaine, were also found in his system.
After he hit Enda Dolan, he carried on driving with the teenager on the roof of his van for about 800 yards before he stopped.