Will Grigg's on fire: Parody song reaches number seven in ITunes UK Top 100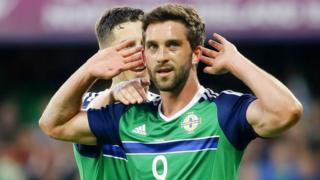 A parody song about Northern Ireland and Wigan player Will Grigg has become one of the UK's most-downloaded tracks.
On Thursday, 'Will Grigg's on Fire', reached number seven in the ITunes UK Top 100.
The chant is an adaptation of the dance classic 'Freed From Desire', by Gala.
Youtuber Sean Kennedy premiered his version of the song earlier this month, and it has now been officially released by London-based band, Blonde.
His version's lyrics include: "He will score goals, he will just score more and more. He will score goals, that's what we signed him for. Will Grigg's on fire, your defence is terrified."
As well as Wigan fans taking the song on as a new chant, Northern Ireland players have recorded their own version of the song ahead of Euro 2016.
At the weekend, Grigg was named as part of the Northern Ireland squad for the finals in France.
Wigan's club chairman David Sharpe awarded Mr Kennedy with a season ticket for inventing "the best chant known to man".