Orangemen in County Down commemorate Battle of the Somme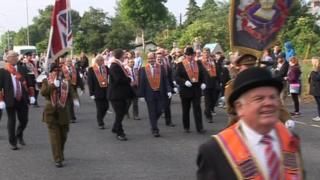 Hundreds of Orangemen in County Down have been commemorating the centenary of the Battle of the Somme.
A parade from the Somme Museum near Bangor followed the route taken by the 36th Ulster division when leaving the Clandeboye Estate en route to France.
Some participants wore uniforms of First World War soldiers and costumes from the period.
There were new banners on display to honour those who were killed.