Orlando nightclub shooting: Belfast's rainbow tribute to victims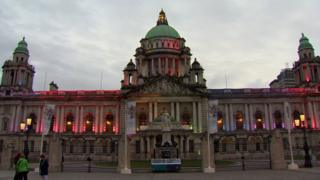 Belfast City Council has paid tribute to the victims of Sunday's gun attack at a nightclub in Orlando, Florida.
At least 49 people were killed in the attack, making it the worst mass shooting in recent US history.
The target of the gun attack was a gay club and Belfast City Hall, the council's headquarters, was lit in the colours of the rainbow on Monday.
The rainbow flag is a symbol used by lesbian, gay, bisexual and transgender (LGBT) campaigners.
A book of condolence was also opened inside the city hall earlier on Monday.
At midnight, the exterior lighting was changed over to the colours of the US flag - red, white and blue.
The tribute remained in place until dawn.