The Somme: What would your role have been?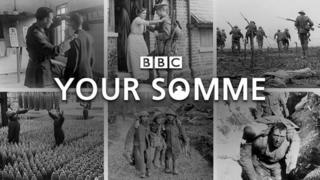 Why should what happened 100 years ago matter to you? You may have heard of the Battle of the Somme, but do you really know what it involved?
'Your Somme' is an immersive, personalised, digital experience which places the user in 1916.
Taking a few snippets of information; gender, and general location, this new tool from the BBC will draw up the most likely scenario which would have faced YOU, had you lived one hundred years ago.
Where might you have served? What regiment would you have been in? What would your chances of survival have been?
Your Somme not only deals with the excitement and trepidation of those going off to fight, but with the work of the women who were left behind to keep the country running.
How did those at home manage to maintain heavy industry and agriculture alongside? What information was coming back from the front? Where did they find time to run the factories, in the absence of such a huge swathe of the population?
Find out about the terrible and often over-looked consequences the war had upon the women who manufactured the munitions.
Your Somme will take you down the trenches, and draw upon the letters and descriptions of what happened, bespoke to your locale.
It uses graphics, music, images and personalised storytelling, to draw the user into the events of the time. Ideal for school students and adults alike, Your Somme links to other informative content about the battle, on its centenary.