Euro 2016: Northern Ireland stars wish Ballymena boy happy birthday after seeing online video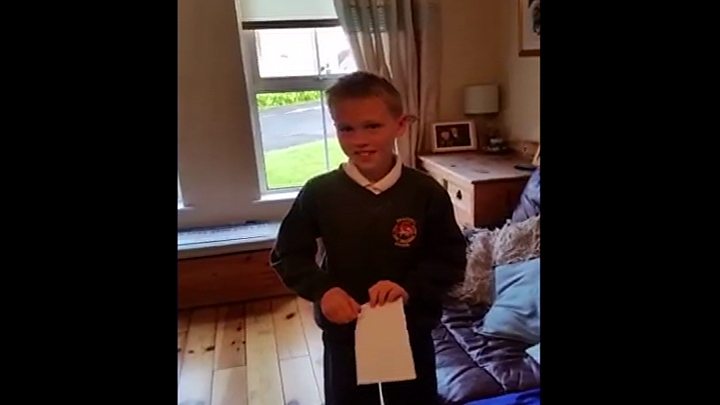 A young boy has been contacted by Northern Ireland football players after a clip of his reaction to receiving Euro 2016 tickets emerged online.
Zak McGall, 10, from Ballymena, was given the tickets by his father the day before Northern Ireland played Ukraine.
A film of his stunned response reached striker Kyle Lafferty, who arranged a Facetime call to Zak on Sunday to wish him a happy birthday.
Zak's father Richard said the phone call had put him "on cloud nine".
The video of the 10-year-old's reaction was posted on the GAWA Caravan in France 2016 Facebook page after members of the travelling party met Richard in Lyon last week.
Lafferty appealed for the family's contact information on Twitter after seeing the clip.
He was joined by captain Steven Davis, Aaron Hughes and Josh Magennis for the call to Zak.
Zak and his father are now back home in Northern Ireland after being in Lyon for Northern Ireland's victory over Ukraine last Thursday.
The 10-year-old said the experience in France was brilliant and that his favourite moment was when Gareth McAuley scored the opening goal for Northern Ireland.
"I was very surprised," Zak said, about the moment he was given the tickets.
"He handed me an envelope. I thought it was money, and the tickets were inside it."
According to Richard, the plan to spring the surprise on Zak began in January.
"We secured the tickets in February and it was very hard to keep it secret for six months," he said.
Richard said that Kyle Lafferty had been an "emotional wreck" after seeing the video, leading him to make contact with the family.
"Kyle was in touch really quickly, he's going to send us a couple of signed jerseys," said Richard.
"Initially he wanted to arrange a Facetime call on Saturday, but the team were too busy," said Richard. "But they got it arranged and wished him a happy birthday."
Richard, who coaches Zak as part of Ballymena United's youth academy, said the experience in France had been "absolutely amazing".
"The atmosphere with all the Northern Ireland fans was so much fun and to go over there to watch a match, to watch the players do what they did - it was amazing.
"Zak had a ball, he really did. For a wee aspiring footballer, it was incredible."
Richard said he and Zak would have loved to stay on in France for Tuesday's crucial final group game against Germany, but they would be cheering on the Green and White Army from home.
And they are both confident Northern Ireland can get a good result.
Zak has predicted a 2-2 draw. Richard added: "The team believes and we believe too - they can get a point at least."