Ulster Bank to end Belfast International Arts Festival funding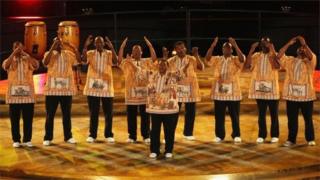 Ulster Bank is to end its funding of the Belfast International Arts Festival.
In a statement, the bank said that it would end its ten-year backing of the festival after the 2016 event, which is due to take place in October.
Ulster Bank provided around £100,000 for the festival, and had contributed around £3m in sponsorship in the past.
That leaves the Arts Council, which awarded the festival £189,000 in 2016/17, as its only major backer.
In March 2015, Queen's University withdrew its support of around £120,000 from the festival that had been running at the university for over 50 years.
That led the festival to rebrand itself as the Ulster Bank Belfast International Arts Festival.
However, it will now have to seek a new title sponsor for 2017.
The director of the festival, Richard Wakeley, said the bank had been a "tremendous partner" to the festival.
The head of Ulster Bank in Northern Ireland, Richard Donnan, confirmed that 2016 would mark the end of its relationship with the festival.
"We're really proud of the work we've done to date with Richard and the whole team behind the Belfast Festival," he said.
"We wish them well for the future as an important platform for the arts in Northern Ireland."