Queen meets NI leaders as she arrives for two-day visit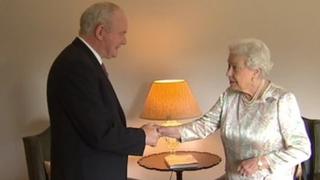 The Queen has met First Minister Arlene Foster and Deputy First Minister Martin McGuinness as she arrived in Northern Ireland for a two-day visit.
The pair greeted the Queen separately at a room in Hillsborough Castle in County Down.
Sinn Féin's Mr McGuinness, who first met the Queen exactly four years ago, told her was nice to see her again and asked if she was feeling well.
The Queen laughed as she replied: "Well I'm still alive anyway."
The 90-year-old monarch shook his hand and told him there had been "quite a lot going on" in recent months.
"I've had two birthdays which have been quite busy," the Queen said.
Mrs Foster, who leads the Democratic Unionist Party (DUP), told the Queen it was "lovely to be here".
She asked the Royal visitor if she had a chance to look at some of the changes made to Hillsborough Castle, which is the Royal Family's official residence in Northern Ireland.
The Queen replied:" Not yet, I'm going to look at it afterwards."
She has been accompanied by her husband, the Duke of Edinburgh, on the two-day visit.
On Tuesday, the Royal couple will visit the Giant's Causeway before travelling to Bushmills, County Antrim.
They will unveil a statue to Robert Quigg who won a Victoria Cross for bravery during the Battle of the Somme.
The Royal Couple will also attend a reception at Portrush Golf Club as guests of the Mayor of Causeway Coast and Glens Borough Council and travel to Bellarena, County Londonderry, to unveil a plaque marking the opening of a new railway station.
The Queen and Duke of Edinburgh last visited Northern Ireland in June 2014.