EU referendum: Diane Dodds and Martina Anderson 'not turning backs on Europe'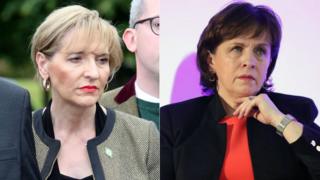 Two Northern Ireland MEPs have said they will not turn their backs on Europe after the UK's EU referendum.
The DUP's Diane Dodds told the European Parliament the people's verdict could not be re-written but the EU and the UK could work closely together.
But Sinn Féin's Martina Anderson pleaded for Northern Ireland to be allowed to stay in the EU.
"If English votes drag us out of the EU, that would be like Britannia waives the rules," she said.
In an impassioned plea to the parliament on Tuesday, she said that she did not feel bound by the UK vote and stood by the people of Northern Ireland who, like Scotland, voted to remain in Thursday's referendum.
"There was a democratic vote - we voted to remain," Ms Anderson said.
"I tell you that the last thing that the people of Ireland need is an EU border with 27 member states stuck right in the middle of it."
Listening
Mrs Dodds told members of the parliament in Brussels that it was time to look forward to a new era.
"For years, the people of the United Kingdom have been trying to tell you of their frustrations and concerns about the EU," she said.
"You turned a deaf ear, but today, you are listening.
"Our nation has not turned its back on Europe - we are not inward-thinking.
"We have for a long time sought a new relationship with our European allies - a positive relationship based on self-governance, free trade and co-operation - to make our world more secure and more prosperous.
"That doesn't make us any less European and it doesn't make us any less optimistic.
"History proves that an independent United Kingdom not only has the strength of character to succeed for ourselves, but also the inherent humanity to defend the freedoms of our neighbours."
Northern Ireland is represented in Europe by three MEPs - Ms Anderson, Mrs Dodds and Jim Nicholson of the UUP, the longest-serving of the three.