De La Salle College: Pupils' parents protest on last day of term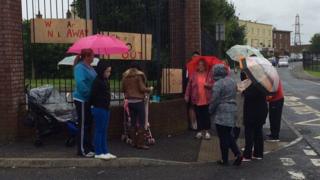 Parents of pupils attending De La Salle College in Belfast have held a protest outside the secondary school on the last day of term.
There have been ongoing industrial problems at the school.
Earlier this year, the Department of Education appointed a panel to investigate.
Around the same time, the Council for Catholic Maintained Schools (CCMS) brought in an associate principal to run the school.
Some parents have now said they are also concerned about how a safeguarding matter was handled.
It centres on an allegation that a priest used inappropriate language of a sexual nature in a conversation with a pupil.
In a statement, the Diocese of Down and Connor said it had received three concerns of a safeguarding nature relating to an incident in 2013, against a priest visiting the college from outside the diocese.
It said the matters were promptly passed on to the statutory authorities and that the diocese was advised they had been investigated.
It added that no further action was recommended.