Brexit: DUP and Sinn Féin unable to get best deal for NI, says Durkan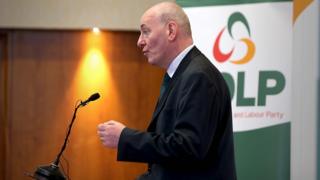 The DUP and Sinn Féin are unable to come up with the best deal for Northern Ireland's future relationship with the EU, the SDLP MP Mark Durkan has said.
Although the region voted by 56% to 44% to stay in the EU in last week's poll, the UK as a whole voted to leave.
Exit deal negotiations will begin once the government formally notifies the EU of its intention to leave the union.
Mr Durkan said talks on the position of Northern Ireland should include a wide range of political parties.
Implications
He said all of the parties across the island of Ireland that supported the Good Friday peace agreement in 1998 should have a say.
"We have made it very clear that we believe that the Irish government should be convening a forum of all parties, north and south who want to go to talk about the implications of this," Mr Durkan said.
"This was something that was put to all of the people of the north.
"If we're going to respect that will it shouldn't just be down to the DUP and Sinn Féin to work [a deal] out."
Influence
But the DUP's Sir Jeffrey Donaldson rejected the suggestion that the Irish government could play a part in talks over Northern Ireland's relationship with the EU.
"The Irish government will not be negotiating on behalf of Northern Ireland - it will be the UK government and the Northern Ireland Executive will be part of that," Sir Jeffrey said.
"The DUP is well placed here, we are close to the people who will be leading the negotiations, we were part of their campaign and we will have that influence."
On Sunday, the Irish government outlined its intention to set up a cross-border forum to discuss issues of mutual interest that could be affected by the UK's decision to leave the EU.