Northern Ireland Ombudsman's plea over patient complaints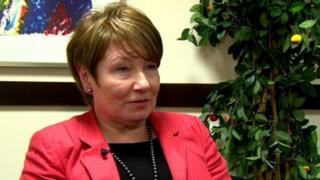 Northern Ireland Ombudsman Marie Anderson has said that 45% of the total complaints she received in 2015-16 were about patient experiences in the health and social care sector.
That is up from 41% in 2014-2015 and 38% in 2013-2014.
Ms Anderson said health and social care trusts in NI must work together more and share information to improve outcomes for patients.
The ombudsman's annual report is published on Thursday.
The ombudsman deals with complaints across all government departments.
Ms Anderson said complaints about health and social care continue to dominate the work of her office.
It is estimated that at any given time, 80% of the workload of the ombudsman's office is spent dealing with health sector complaints.
In keeping with previous years, the overriding issue of complaint was a failure in clinical care and treatment.
'Concerning'
However, the ombudsman also found that inadequacies in the complaint handling and communications process across the sector were significant issues.
Ms Anderson said she was particularly concerned about failings identified in how the health and social care trusts are dealing with serious adverse incidents (SAIs) which she called "concerning and disappointing".
The wider role of the ombudsman's office in 2015-2016 was to deal independently with complaints from people complaining of maladministration by government departments, councils and a variety of other public service providers.
The ombudsman reports a "continuing downward trend" in the number of these complaints.
In 2015-2016, a total of 170 written complaints about government departments and their statutory agencies were brought to the office.
It said this was 17% less than in 2014-2015 which had seen a 26% drop in such complaints from 2013-2014.