East Belfast: Ferrets, dogs and goat rescued from cannabis farm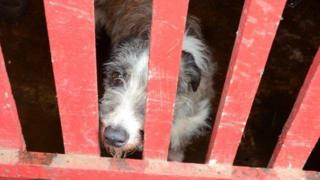 A number of neglected animals have been rescued from a cannabis farm in east Belfast.
The drugs factory was discovered at a property on the Old Holywood Road, with plants worth an estimated £15,000 seized.
Police said nine dogs, three ferrets and a goat, which were discovered at the property, were all in poor health.
They have since been treated by a vet and are being cared for in an animal sanctuary.
Const. Gemma Gregg said: "We are delighted to have been able to shut down this cannabis factory and prevent these drugs from being sold.
"We are also very pleased to have helped the animals and to ensure they now receive the care they need."