Parkhall, Antrim: Cat 'badly burned' by bonfire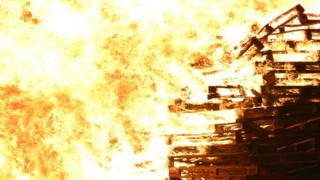 An Antrim man has said his family's pet cat has been badly burned after the 11th night bonfire it was on was set alight.
Daryl McGreevy said his partner was told that people had noticed their pet cat Kitty on the bonfire in Antrim's Parkhall estate before it was lit.
However, he said despite being urged to wait, petrol was poured on the bonfire and it was set alight.
The vet treating Kitty said she may "lose part of her ears" due to burns.
"She was extremely frightened when she came in. She had extensive singeing all over her body, her hair is all burnt," according to Brian McCauley.
However, the vet added that the cat's condition had "improved" by Wednesday morning and he expected her to survive.
Mr McGreevy said he and his partner Kirsty-Anne let their cat out of their house at about 21:00 BST on Monday.
Shortly after the bonfire was lit about half and hour later, they noticed a man running by with a cat in his arms with people following him.
'Distraught'
About an hour later they began to learn what had happened via social media.
"My partner got in contact with a couple of her friends and they said that people had seen the cat on the bonfire before they poured the petrol on it and instead of going and getting the cat off it, they poured the petrol round it and lit it," Mr McGreevy said.
"She's really badly burned. We have to wait a day or two to see - because she's a fully black cat - how her ears and her skin and her paws are.
"I actually went up this morning just to clarify that the cat was ours and she was in a bad state. They said in a few days time they'll know what's actually going to happen with her."
He said they haven't yet told their children what happened to their pet as they did not want to distress them.
"They wake up every morning calling for her. My partner's been really distraught about it," Mr McGreevy added.
"If it had been a dog on the bonfire they would have got up and got the dog down. It just happens to have been a cat and not one of them gets up to get it.
"They sat and cursed and said a load of bad things when the cat was on the bonfire, whenever there were kids and adults telling them to get the cat off the bonfire."
The family's vet told the BBC's Good Morning Ulster programme that the cat's injuries were "mainly facial".
"Her ears are quite badly burnt and she'll probably lose part of her ears," Mr McCauley added.
However he said she had begun to eat again by Wednesday morning and he expected her to recover from her injuries.