Elderly couple and grandchild escape injury in west Belfast shooting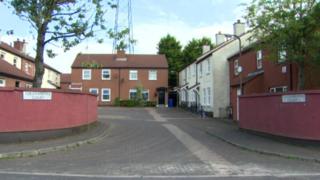 An elderly couple and their grandchild have escaped injury in a west Belfast shooting.
Shots were fired at their home in Tollnamona Court at about 02.40 BST in the early hours of Saturday morning.
The couple and their grandchild were upstairs and sleeping at the time and were not injured.
Sinn Féin councillor, Emma Groves, said the family had lived in the house for 33 years and had raised their seven children there.
They said they had no idea why they would be targeted in an attack like this.
A PSNI spokesperson said they are working to establish a motive and have appealed for witnesses.