NI health trusts offering lucrative overtime payments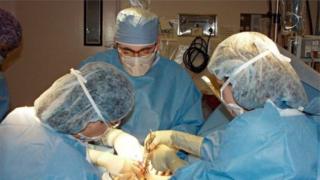 A BBC investigation has revealed that certain local health trusts are offering consultants lucrative overtime payments for extra work.
Last year, one consultant was paid overtime of about £153,000.
That member of staff, who remains anonymous, was working in the Southern Health Trust.
In fact, it has emerged that the Southern Health Trust spent £2.5m on overtime.
According to the trust, it had to run additional evening and bank holiday clinics to keep up with demand.
In a statement to the BBC, a spokesperson said: "Demand for hospital services across Northern Ireland continues to grow beyond the capacity that is currently available.
"With an ongoing shortage of some specialist staff, waiting times across a range of specialties are longer than we would wish for our patients.
"Our priority remains the safe care of patients, so in common with other trusts, we run additional clinics on evenings, weekends and bank holidays, when resources are available, to help reduce waiting times."
The figures have been released under the Freedom of Information Act after the BBC asked all 186 organisations running NHS hospitals across the UK about overtime and extra payments from 2013-14 financial year to 2015-16.
When it comes to the amount spent by trusts in overtime payments, Northern Ireland makes it on to the list of the UK's top five highest-paid hospital consultants last year.
National figures up
At Lancashire Teaching Hospitals, an unnamed consultant received just under £375,000 in overtime.
At East Kent Hospitals, a consultant earned £205,408.
Nationally, spending on overtime is up. In fact, it has risen a third - to £167.8m spent in 2015-16.
Locally, hospitals in Northern Ireland have increased their spending over the past three years, from almost £3.5m to £3.9m.
In 2015-16, the Western Health and Social Care Trust spent £607,454 in overtime payments.
Figures for the South Eastern Trust show £488,056 was spent, while the bill for the Northern Health Trust was £277,000.
The largest of the health trusts - the Belfast Trust - did not respond to the Freedom of Information request.
While it is up to hospitals to negotiate their own rates for extra work, the investigation reveals that the most lucrative rates across the UK are often for routine knee and hip operations.
Payments for extra shifts or overtime are often negotiated locally in individual hospitals.
Nationally last year, 23 NHS trusts had to pay at least one consultant over £100,000 for extra work, with another 39 paying at least one consultant over £350,000.
Figures released to the BBC reveal that consultants doing overtime in these specialist areas commonly make £600 for a four-hour shift - up to three times what they normally make.
According to The British Medical Association (BMA), the overtime payments issue is to do with a shortage of doctors.
"The fact is, the NHS is only paying overtime on this scale because it does not have enough doctors to do the work," the BMA said.
'Costs rising'
A spokesman from the Department of Health said: "It is an important policy aim for the health service to endeavour to reduce expenditure on agency, locum and bank staff.
"Costs for agency and locum staff have been rising significantly over the last number of years to a point where that position is no longer financially sustainable in the short to medium term.
"Whilst trust expenditure on locum consultants has been incurred to ensure that safe and effective services are sustained, it is essential that the costs are established on a sustained, financially stable basis.
"The department is therefore considering the issue in the north and will liaise closely with the other devolved administrations to monitor the introduction of the price cap in England, assessing the overall impact of the policy on the provision of services."