Rio 2016: The highs and lows of athletes from Ireland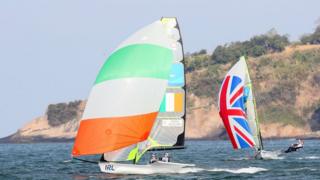 While it is turning out to be a bumper Olympics in terms of medals for Team GB, athletes from Ireland, both north and south, have had a rather lacklustre Rio.
To recap, 77 athletes went to Brazil representing Team Ireland, while a further eight athletes signed up to the Great Britain and Northern Ireland Olympic Team.
The total medal haul is two (of the silver kind) with no more expected in these closing days of the 2016 Olympics.
London 2012 was kinder - four medals came back to Northern Ireland and four to the Republic, including one gold draped around the neck of boxer Katie Taylor.
Highs
Let's start on a positive note - the O'Donovan brothers. They were Ireland's gift to Rio. Gary, 23, and Paul, 22, became an internet sensation thanks to their hilarious post-race interviews.
In all the hype, it has almost been forgotten that they won silver in the lightweight men's double sculls - Ireland's first medal at the 2016 Games and the country's first rowing medal.
The interviews notched up millions of hits online and created an army of devoted fans, though many claimed they needed subtitles to understand the chilled-out brothers from Skibbereen, west Cork.
They were so relaxed, they did not even know what time their final began.
Their most quotable phrases include:
On strategy: "Nothing too complex really - A to B as fast as you can go and hope for the best. Close the eyes and pull like a dog." (Paul)
On the Olympic village: ""The food is fantastic there like, you could have steak for breakfast, lunch and dinner, with spuds if you like." (Gary)
On the choppy conditions: "We were almost disappointed we couldn't race yesterday, it would have been a bit of craic." (Paul)
"We're well used to be a bit of wind. That kind of thing wouldn't faze us at all." (Gary)
---
Annalise Murphy won a silver medal in the sailing. She was competing in the laser radial class and had narrowly missed out on a medal in London 2012.
The Dubliner's achievement comes 36 years after the last Irish Olympic sailing medal was won at the Moscow Games by David Wilkins and Jamie Wilkinson.
The 26-year-old said afterwards: "I didn't think I was going to be in this position even a few months ago. I was sailing really badly so to be able to come and do it when it matters is really incredible."
---
Lows
Let's start with Michael Conlan and not just because he appeared to tweet Russian President Vladimir Putin after losing his quarter-final bantamweight bout against Russia's Vladimir Nikitin.
To say the 24-year-old from Belfast was furious after the fight is an understatement - he thought he had clinched it and most observers agreed with him.
The London 2012 bronze medallist and reigning world champion Conlan did not hold back in a series of post-match interviews, launching an expletive-ridden tirade against the Rio judges. Needless to say, his rants and rude gestures went viral.
"I came for gold and I've been cheated. I'll not do another Olympics," he said.
"I would advise anybody not to compete for the AIBA (Amateur International Boxing Association)."
However, Conlan was later offered a consolation prize - a cherished medal from five-year-old Finn McManus from County Dublin, who also wrote a letter to the "best boxer in the world".
"I want you to have my school medal because you are a winner," he said.
---
It has generally not been a good Olympics for Ireland's boxers. "Shock defeat" was the most overused headline, particularly when it came to 2012 lightweight boxing champion Katie Taylor and 2012 bronze medallist Paddy Barnes.
Ireland's bid did not have a very auspicious start after Michael O'Reilly failed to set foot in the ring after failing a drug test. The 23-year-old middleweight from Laois admitted he unintentionally took a supplement that may have contained a banned substance and issued an apology to the sport, fans and "all those who have supported" him.
His violation leaves him facing a ban of up to four years while a suspension would see him losing his annual state grant which currently is about £34,000.
---
Away from the sports field, there has been drama involving Ireland's top Olympic official and an alleged ticket scam.
Dublin's Pat Hickey, president of the European Olympic Committees and head of the Olympic Council of Ireland , was sensationally arrested on Wednesday 18 August at his luxury hotel in Rio.
There was a bit of cat and mouse before the police finally tracked him down to another room in the hotel and he was captured on television being taken away, wearing his dressing gown.
The 71-year-old was then taken to hospital for tests but has since appeared in court and is now residing in Rio's notorious Bangu Prison.
Mr Hickey denies the allegations but has stepped down from all his posts temporarily while police investigate.
---
Keep on rowing
Coleraine rower Alan Campbell missed out on a place in the single sculls final but by the very virtue of being in Rio, he is the first Northern Irish Olympian to compete in four games.
The highlight of Campbell's career was winning a bronze medal at the London Games in 2012.
---
Close but no ciBarr
Thomas Barr, from Waterford, missed out on a medal in the 400m hurdles by 0.05 seconds but set a new Irish record of 47.97.