Belfast: Neighbour 'picked up pipe bomb' after racist attack in Atlantic Avenue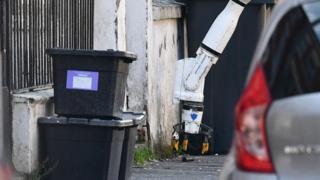 A man has said he picked up a pipe bomb and carried it away from a house in north Belfast after his neighbours' home was targeted in a racist attack.
A Slovakian family were in their house in Atlantic Avenue when a rock was thrown overnight, smashing a window.
A pipe bomb was later found in the area and police have linked the two attacks.
A neighbour of the family told BBC Newsline officers called to the house after the rock attack, but the pipe bomb was not found until 09:30 BST.
The man said he carried the device out of the house and called the police.
The discovery led to a security alert on Thursday morning.
Army bomb disposal officers examined the pipe bomb and declared it to be viable.
Insp David McBride said the rock attack on the house was "being treated as a hate crime" and added that police believed the it was connected to the bomb attack.
He appealed for anyone who witnessed suspicious activity in the area between midnight and 09:30 BST to contact police.
The inspector added: "This incident caused inconvenience, disruption and upset for the local community of north Belfast and I would like to thank the members of the public for their patience and co-operation during the operation this morning."
No-one was in the room in the house where the window was broken.
However, the family said they now want to move our of the area.