Jean McConville: Republican Ivor Bell to undergo medical tests over fitness to plead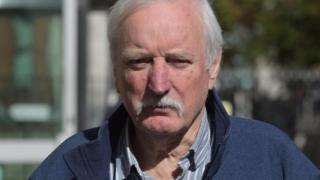 A veteran republican charged over the IRA murder of a mother of 10 is to undergo a medical examination to determine whether he is fit to plead.
Ivor Bell, of Ramoan Gardens in west Belfast, faces two counts of soliciting Jean McConville's killing in 1972.
The 79-year-old was due to plead at a hearing in Belfast Crown Court ahead of his trial.
But the hearing was adjourned for four weeks after his barrister said medical tests were to be commissioned.
The judge said the adjournment "relates to unfitness to plead issues".
Mr Bell's lawyers have said at previous hearings that he denies the offences.
The defendant was originally charged with aiding and abetting the murder, and with being a member of the IRA, but the charges were subsequently amended by the Public Prosecution Service.
Mrs McConville was 37 when she was abducted from her home in Belfast's Divis flats on the Lower Falls Road by an IRA gang.
There had been speculation that she had been an Army informer, but that was dismissed by the Northern Ireland Police Ombudsman.
She was shot and secretly buried and her remains eventually found at a beach in the Republic of Ireland in 2003.
She was one of those known as the Disappeared - 16 victims of the Troubles were were abducted, killed and secretly buried by republicans.
Nobody has been convicted of her murder.
Part of the case against Mr Bell is based on the content of tapes that police secured from an oral history of the Troubles, put together by Boston College in the United States.
It involved a series of interviews with former loyalist and republican paramilitaries, recorded on the understanding that they would remain unpublished until their deaths.
One of the interviews was allegedly given by Mr Bell - a claim the defendant denies.